Another TNNA (and more YARN!!!)
Twice a year, the needle arts folks get together for five fun (but exhausting) days of classes, meetings, shopping, cocktails, and YARN. It's our trade show where retailers, teachers, designers, and manufacturers in Yarn, Spinning, Weaving, Needlepoint, and Cross Stitch all get together to see what's new. Welcome to…
TNNA 2016
When I first heard we were moving the National Needle Arts Association (TNNA) show to DC, I thought two things: 1) I hope I have time to do some sightseeing 2) I get to fly the Delta Shuttle!
It's a special treat since it means flying out of the Marine Terminal at LaGuardia Airport. It's like going back in time to when airline travel was calm, easy, and dare I say, pleasant.
I arrived early in the day, so I had a chance to walk around a bit before teaching my first class on Gauge.
Friday I had the afternoon free, so I did a little sightseeing. I've seen the big monuments, so I decided to hit the Renwick Gallery (amazing) and go to walk around Georgetown.
Friday night it was time for the fashion show. I'm afraid I was TERRIBLE at taking photos because I was just too busy enjoying it, but here are a handful of shots
Fashion show followed by dinner with my besties. Love the draw of cell phones. Couldn't resist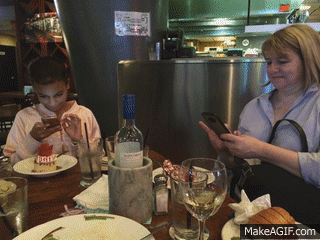 Saturday is when all the real action begins. That's when the show floor opens. I taught classes Saturday, Sunday, and Monday at 7:45 am (yikes), and then went right to the floor.  Just to give you a sense of what the days are like, they are filled with meetings, seeing friends and colleagues, but most importantly seeing the new products.
If you'd like to see the Facebook Live videos I shot on the floor, head on over to my Facebook Page. (Hey, while you're there, give me a "like" won'tcha?) Scroll down to June 11. Thanks to my students, Jenny King, and to the lovely folks at Classic Elite Yarn, Willow Yarns, Ancient Arts Yarn, and Sugar Bush Yarns, for letting me film.
Here are a few pics from the weekend. I'm pretty bad at remembering to take photos, but the videos are good.
I did a lot of hanging with my pals Melissa Leapman, Carol Sulcoski, and Brooke Nico (and her amazing daughter/young knitwear designer, Peyton). In addition to general fun and mayhem with these ladies, we were doing some legit final planning for our July 15th retreat Sip, Sip, Knit. (You should come–we are going to have a blast!)